YWCA of Bombay COVID-19 Relief Programme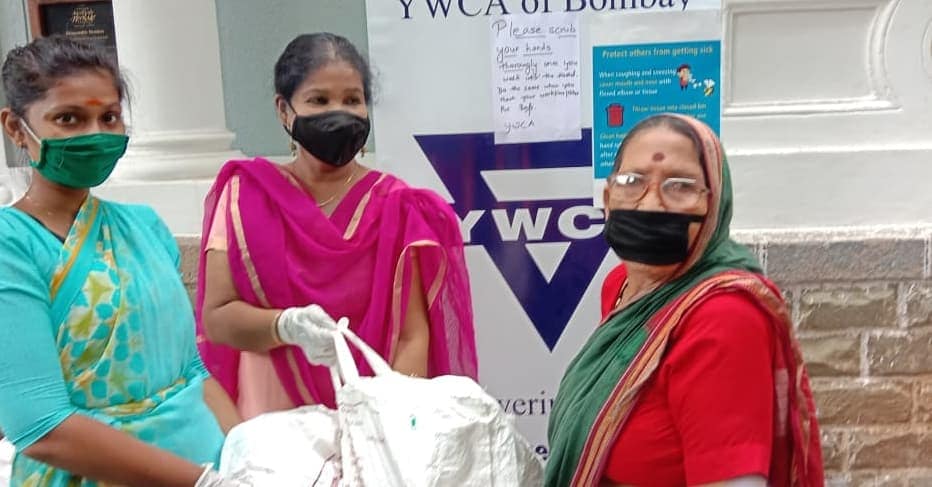 The Covid-19 pandemic has caused havoc across the world. The city of Mumbai home to people
across different social mileus, in particular the various migrant communities saw some of the
harshest realities and troubles cast upon them on account of the Covid-19 pandemic leaving them
devoid of access to basic food, shelter and healthcare. Lockdowns have dire implications across
all stratas of society, however, the informal workforce, the women, and senior citizens in our
society saw themselves hardest hit especially in terms of their economical, social, physical and
mental well being.
With our firm resolve to serve our communities at this hour of crisis, we at YWCA of Bombay
have been at the frontline with our fight against the Covid-19 pandemic. From undertaking food
distribution drive and providing relief packages with daily necessities in various communities
across Mumbai, to providing a secure, healthy and a safe space through our Shelter Homes to
many vulnerable and destitute women especially at a time when the incidence of domestic
violence cases saw an exponential rise in the city on account of the lockdown. Besides, to extend
our reach and maximize our efforts to reach out to our beneficiaries we have also partnered with
various governmental and non-governmental organizations including the Brihanmumbai
Municipal Corporation (BMC) in various relief work undertaken during this pandemic.
It also gives us immense satisfaction to have placed our in-house nursing aid students across
hospitals in Mumbai as direct frontline warriors in our fight against the COVID-19 pandemic.
You can create change today!
Your donation will help YWCA of Bombay remain on the front lines of response and recovery meeting the needs of the most vulnerable sections of society in particular the informal sector, women, children, and their families through direct relief work, capacity building, skill development and training, advocacy, leadership, rehabilitation and collective impact through our members and partners across 800 families in various communities across Mumbai. Donate today!
Target beneficiaries
Economically marginalized people of the community
Areas: Across various communities in Mumbai. These are the areas that we have been doing community work. And have rapport with the people living there. They have been our beneficiaries (through balwadis, study centres, youth groups, SHGs and senior citizens groups).
Project Implementation
Issues to be addressed
Food security: for informal sector and women – headed households.
Timely access to comprehensive sexual and reproductive health services- sanitary pads.
Staff to recognize signs of domestic violence.
Access to education and accessibility to internet.
Gender sensitisation – sharing of domestic tasks.
Care for senior citizens and disadvantaged through counselling and other social support.
Livelihood and skill development of Self Help Groups (SHG) and youth groups.
Promoting coordination between government agencies for better response.
Budget
Purchase of Materials for 800 families per month : Rs 2,500 x 800 nos = Rs20,00,000/-
Food groceries/ Hygiene material/ Awareness programmes per family= Rs 2000/-
Study material/ Stationery/ wifi connection per family = Rs 500/-
Requirement for three months Rs 60,00,000/- (Sixty lakhs only)
Your budget friendly contribution of Rs 2500/- can help make a difference in many lives.
For more details kindly contact the General Secretary at 9833393953
Corporate Donations:
You can also write to us at ybombaygs@gmail.com for partnering with your Corporate Social Responsibility(CSR) activities.
Bank Details
YWCA of Bombay
Name of Bank: UCO Bank
Branch: Nariman Point
A/c No. 03860100009540
IFS Code: UCBA0000529
Donation received are exempted under section 80 G of the Income Tax Act, 1961
On transfer of donation kindly inform us at ybombaygs@gmail.com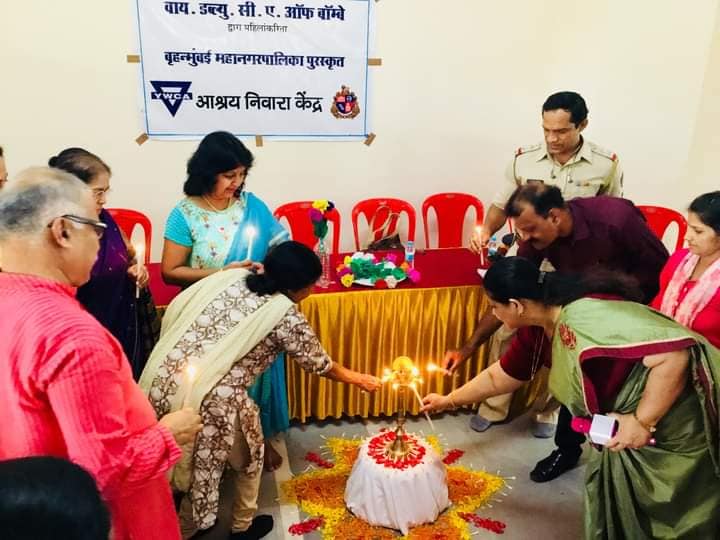 YWCA of Bombay works for empowerment of women at all levels to strive for justice. We inaugurated two Shelter Homes – Aashraya and Ummeed for distressed women in 2019. In one year 103 women and children have utilized the services of the homes.
Many of the residents of the Shelter homes are young destitute women or homeless women. Women who have faced physical, mental and sexual violence. Referrals come mostly from the police, NGOs or institutions.
Our shelters provide a secure accommodation for women who are at risk of or have been subjected to trauma. We provide essential aspects of protection, services and resources which enable women to rebuild self-esteem, and to take steps to regain a self-determined and independent life. Basic material needs, such as meals, hygiene products and clothing are taken care of. Specific services such as certain forms of counseling improve mental health and life outcomes for women.
Assisting women and girls to access economic opportunities and affordable housing is a big challenge and we are committed to work for them. While in the Shelter, it is important for them to develop Sustainable livelihood skills.
To provide skills to the residents that will enable them to be gainfully employed so that they become financially stable.
To provide opportunities for skill training in different institutes
Provide Counselling
Overall development of residents
There is a demand for students completing CHASI (Companionship Help for Aged, Sick and Infants) course.
YWCA conducts various vocational courses at our centres. Women who have low educational levels can be part of this programme.
Residents with specific interest will be sent to do training in their area of skill.
Preparation to live an independent life
The Shelter Supervisor can monitor the students enrolling for the course. Admissions can be open to women from nearby slum areas also. Publicity will be done in the community by the social worker and through the health centre.
The course teachers will report to the committee.
Contact will be made with hospitals/ old age homes in the locality for practicals.
A data will be kept of enquiries and the social worker can look into placements for employment.
Network with other organisations for training of students interested in specific skills.
Services of Counsellor available at the centre
Residents are engaged in different activities at the centre for capacity building and increase of self confidence. Eg. Shelter Didi – where each individual is given responsibility to handle the centre for one day by allotting responsibilities.
Equipments for the practicals: Expense-Rs. 50,000/-
Books / stationery: Rs 20,000/-
Teacher: Rs 15,000 x 12 months = Rs 1,80,000/-. Total Rs 2,50,000/-
Sponsorship for residents doing courses from outside the centre –
@ Rs 10,000 x 20 nos = Rs 2,00,000/-
Total : Rs 4,50,000/- (Rupees Four lakh fifty thousand only)
For more details kindly contact the General Secretary at 9833393953
Corporate Donations:
You can also write to us at ybombaygs@gmail.com for partnering with your Corporate Social Responsibility(CSR) activities.
Bank Details
YWCA of Bombay
Name of Bank: UCO Bank
Branch: Nariman Point
A/c No. 03860100009540
IFS Code: UCBA0000529
Donation received are exempted under section 80 G of the Income Tax Act, 1961
On transfer of donation kindly inform us at ybombaygs@gmail.com